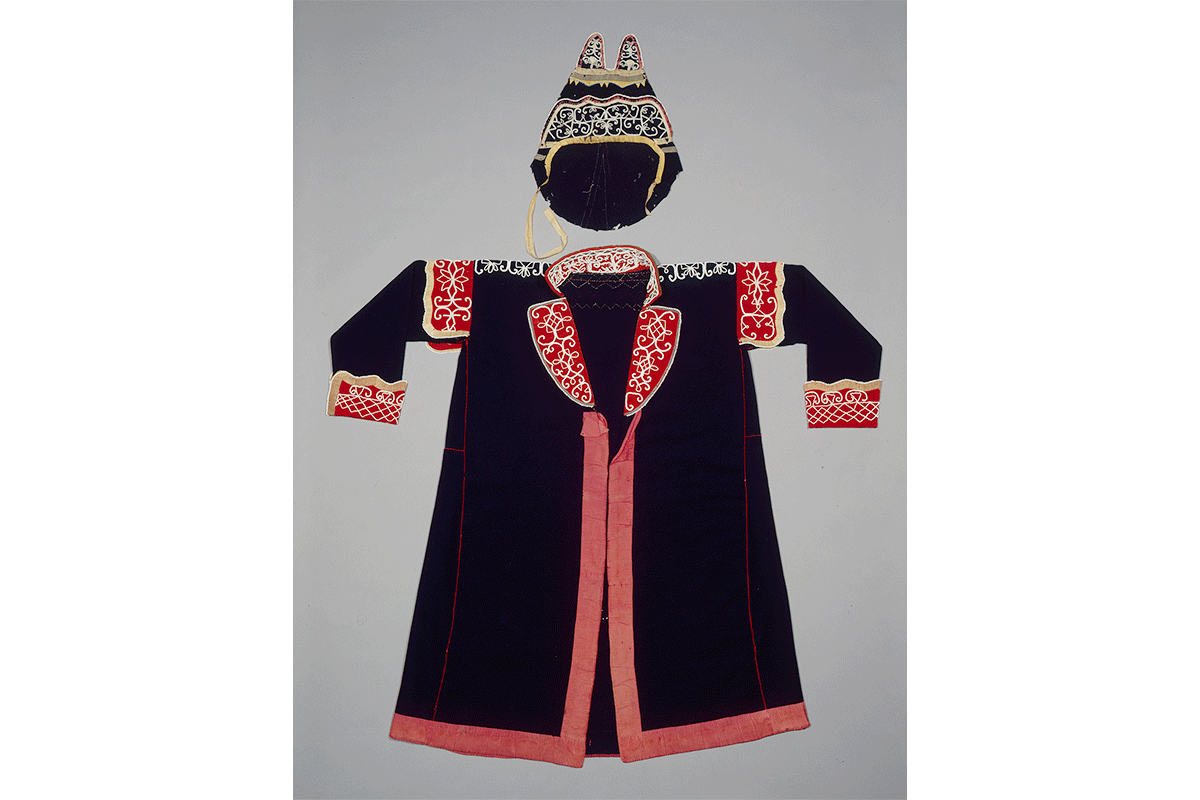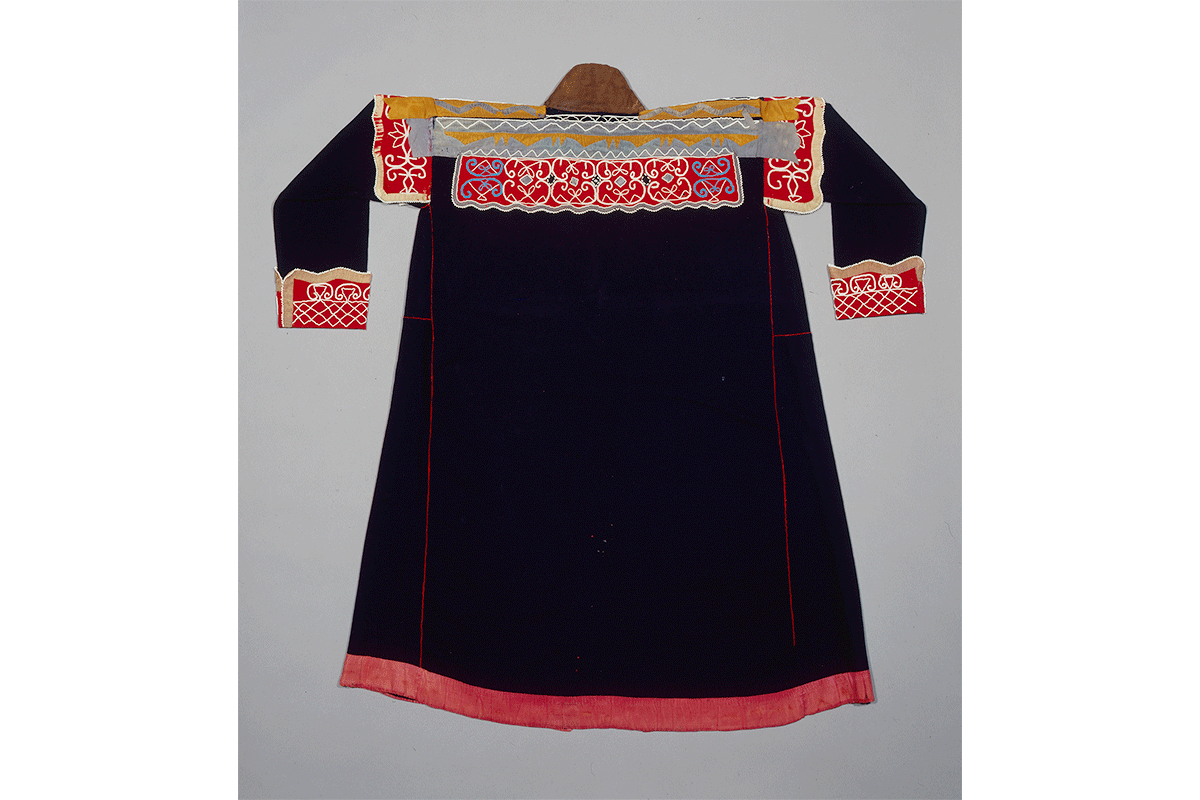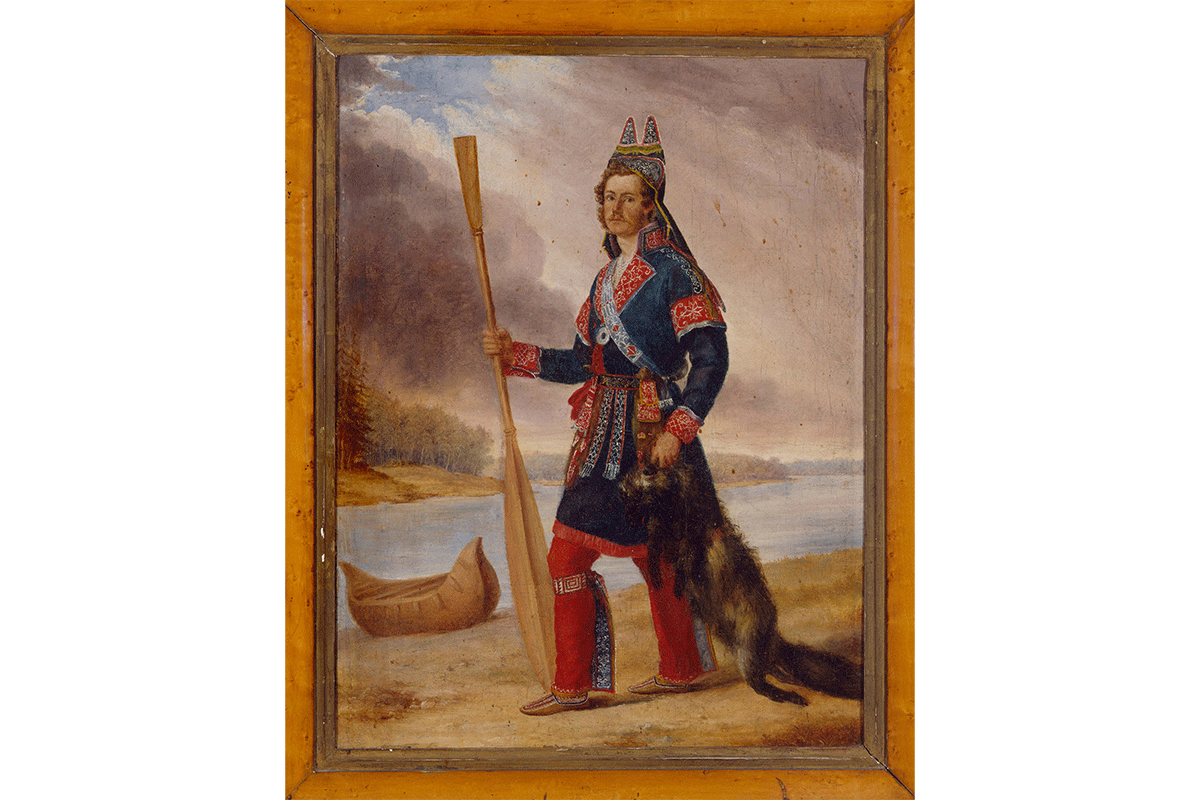 Chief's Costume
Mi'kmaq
Nova Scotia or New Brunswick
ca. 1820-30
coat: wool cloth, glass beads, silk ribbon, thread; headdress: wool cloth, glass beads, silk ribbon, thread; moccasins: hide, porcupine quills, silk tape, glass beads, thread, vegetal dyes
height: coat (inc. collar) 42, headdress: 16 ¾"; moccasins: 9"
width: coat (sleeve to sleeve) 58 ¾", headdress: 12"; moccasins: 4"

Inventory # W1495
Sold
acquired by the Mashantucket Pequot Museum & Research Center, Ledyard, CT
PROVENANCE
Peter Winkworth, London, UK
RELATED EXAMPLES
The New Brunswick Museum, Saint John, 30116 - See: The Spirit Sings(Catalogue), Glenbow Museum, 1987, E 35 (COAT)
The Nova Scotia Museum, Halifax - See: Elitekey, Whitehead, 1980, fig. 10 (HEADDRESS)
Museum of Victoria, Melbourne, Australia, X8938 - See: The Spirit Sings(Catalogue), Glenbow Museum, 1987, E42 (COAT)
Almost certainly collected by the gentleman pictured in the third photograph, likely having had his portrait commissioned upon return to the United Kingdom, this costume represents one of the rarest forms of Mi'kmaq material culture extant. While chief's coats can be found more frequently in museum collections, the double peaked cap or hood, is extremely rare. A survey of published examples, as well as personal correspondence with institutions in Canada, suggests that possibly as few as 3 survive.
The moccasins, while clearly from a culture west of the Mi'kmaq/Malecite geographical region (Seneca), were included with this group when the previous owner acquired it over 40 years ago. It is uncertain at this point whether the original collector had travelled farther west, or the moccasins had travelled east. It is also interesting that the treatment of the moccasins in the painting does not exactly replicate the originals. This is quite possibly a case of licence taken by the artist.
We are optimistic that further research into the identity of the individual pictured will yield much more information as to the time and regions of his travels, and shed light on the exact origin of this important group.