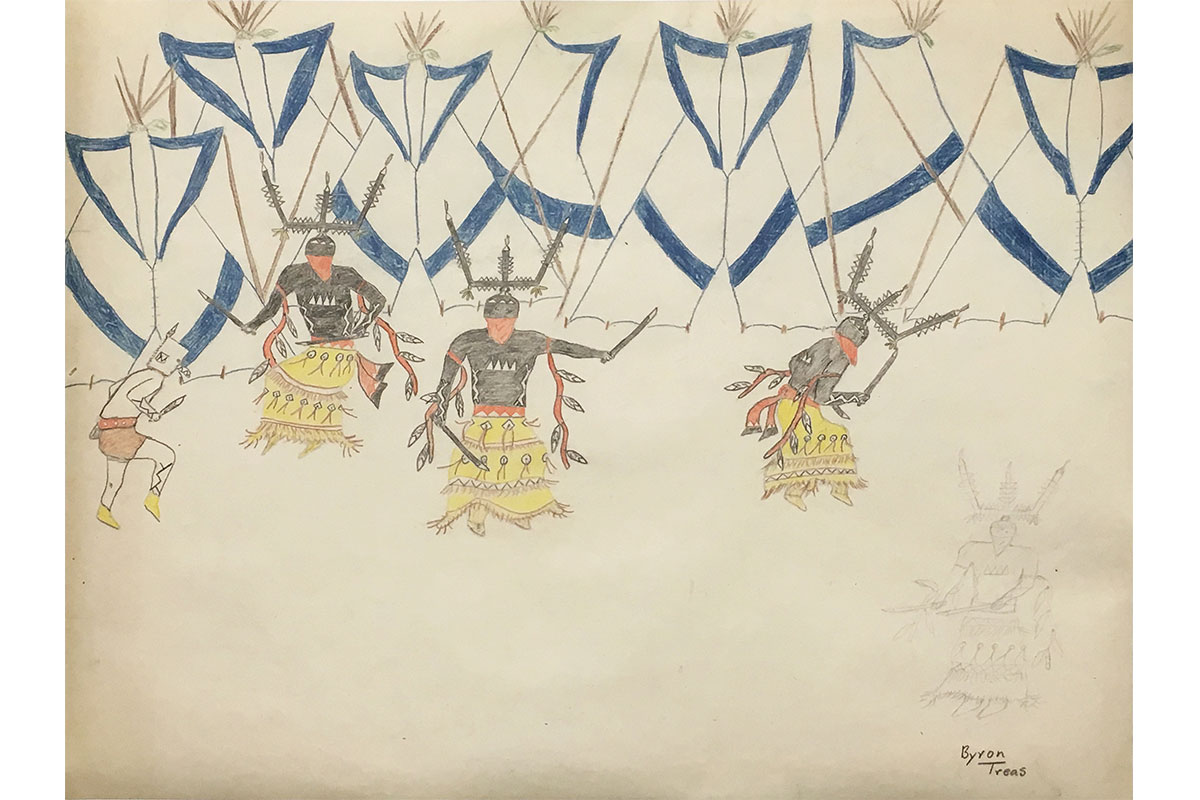 Drawing "Ga'an Dancers"
attributed to Byron Treas, 1937-1983
Mescalero Apache
New Mexico
early 20th century
colour pencil on paper
height: 16"
width: 20"

Inventory # S4304
Please contact the gallery for more information.
A handwritten inscription in the bottom right corner reads "Byron Treas."
RELATED EXAMPLES
Haffenreffer Museum of Anthropology, Providence, RI, Cat. No. HMA 77-189 – For a painted robe by the Chiricahua Apache Chief Christian Naiche, showing Ga'an dancers performing at a puberty ceremony (Collected from the artist in 1911)
National Museum of American Indian, Washington DC, Cat. No. 2/1417 – For another painted robe by Chief Christian Naiche, showing Ga'an dancers performing at a puberty ceremony (Collected by Mark Raymond Harrington in 1909 during fieldwork sponsored by George Heye)
Philbrook Art Center – for a work entitled "Apache Fire Dance" showing similarly attired Mountain Spirit (Ga'an) dancers by Al Momaday, Chiricahua, Apache – See: La Farge, Oliver. A Pictorial History of the American Indian. New York: Crown Publishers Inc., 1956
This finely executed drawing by Byron Treas, a Mescalero Apache from New Mexico, depicts White Mountain Apache ga'an dancers, also known as 'crown dancers.' The ga'an (or gaa'he as the Eastern Apache refer to them) are powerful mountain spirits friendly to the Apache. Numerous legends narrate the origin of their special relationship to the Apache, and to this day they are commonly called upon for healing, blessing and the protection of their people. Through masking, song and dance, the performers come to embody these mountain spirits. A ga'an group always consists of four dancers. The four figures in this drawing represent the four cardinal directions. Commonly dressed in black or dark blue, one of the dancers is left merely outlined in the lower right corner of the image. The forms, colours and patterns such as the lightening designs on their elaborate masks all hold symbolic significance, and must be prepared by an experienced medicine man with great care, lest they instil harm on the community. The wooden slats suspended from the masks create a sound upon movement that is characteristic of the ga'an dances. A fifth figure to the centre left represents the messenger to the spirit world, always dressed in white or grey, and without whom no ga'an group would be complete. The messenger's mask is much smaller and made of white cloth, and like the other ga'an dancers his body is fully painted. Also referred to as the 'clown,' this messenger is also perceived to be a sacred being with a uniquely dual nature. He instills both fear and comfort, causes havoc and facilitates healing through laughter, scares away evil and heals the bodies of the sick. The ga'an ceremony is performed on various occasions. Pictured here is perhaps the young Apache girls' coming of age initiation called na'ih'es, or Sunrise Ceremony, an event that takes place every summer on the Mescalero reservation.