Shields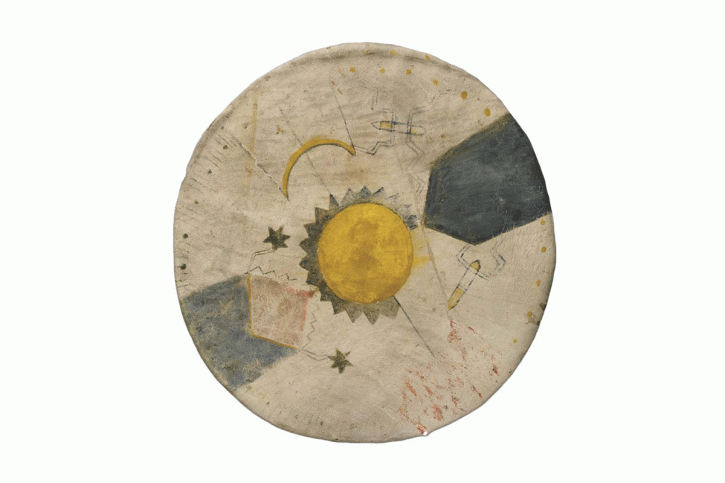 ---
Learn more about Plains Shields
A shield cover was among the most prized possessions of a Plains warrior in the 19th century. During a vision quest, a patron, usually an animal or other being, would be revealed to the individual in a dream, and an adult name associated with the patron might be made known to the vision seeker. The shield's deerskin cover was then painted with imagery associated with the patron. Throughout his life, and particularly during combat, the warrior trusted and derived power and protection from his patron and his personal medicine. 
Shields were commonly painted with imagery associated with the patron. They communicated status, privileges, rights and obligations so that awareness of a warrior's mystical power might precede him. However, the full meaning of the design could have been concealed to conserve its power.
Tribal attributions can be challenging for some objects in the absence of precise collection history. Regional characteristics including styles of manufacture, design and pictographic representations all offer insight into the individual histories of a particular shield. It is also possible that a warrior created several shield covers with similar imagery over the course of his lifetime as was the case with the Hunkpapa Lakota warrior-artist He Nupa Wanica (Joseph No Two Horns). Possible reasons for a duplicate shields vary; the original could be lost in battle, surrendered to authorities or even sold in the emerging commercial markets of the late 19th century.
In a world without written language, pictographic representations are visual documents, and the people who inhabited the Great Plains of North America were particularly adept at this form of expression. Painted shield covers stand as significant examples of this tradition.
---
Status: All
Category: Shields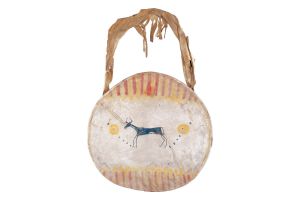 Apsáalooke
Northern Plains
ca. 1870
Mescalero Apache
Southern Plains
ca. 1880