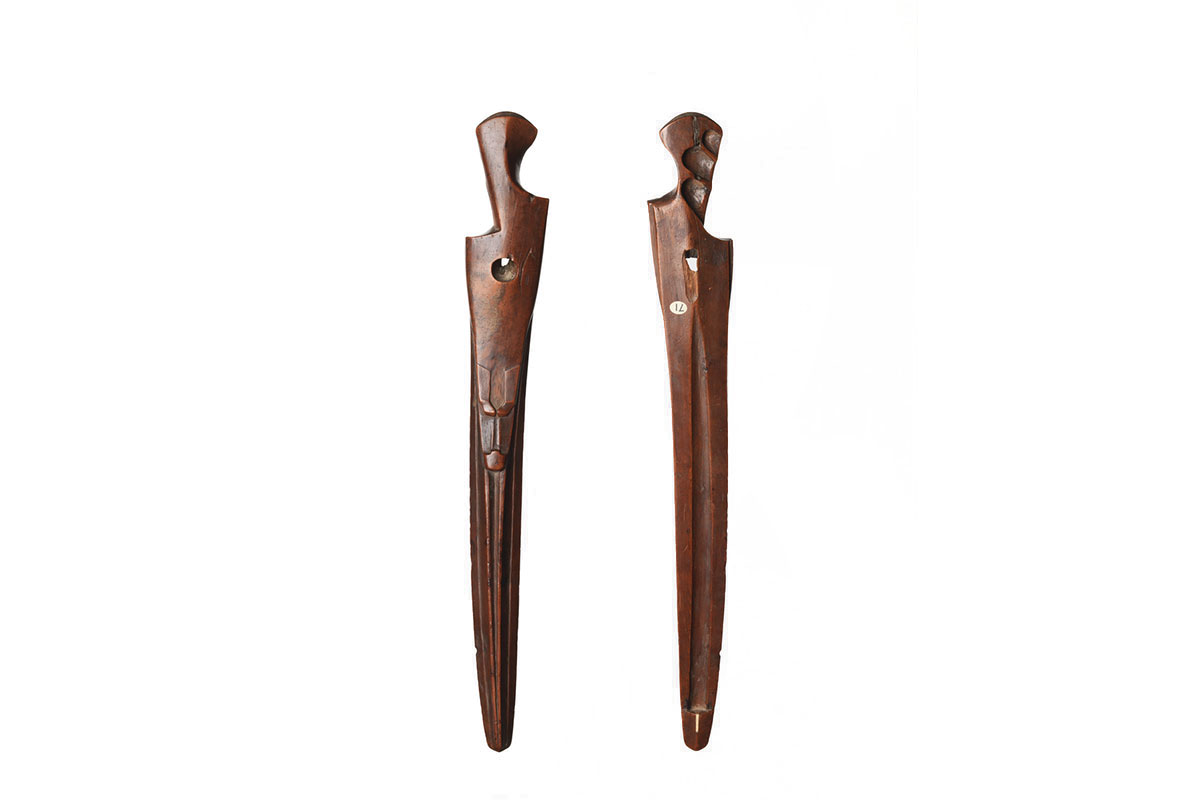 Atlatl
Alutiiq
Kodiak Island, Alaska
late 18th/ early 19th century
wood, walrus ivory
height: 19"

Inventory # E4370
Please contact the gallery for more information.
PROVENANCE
Anthony Ralph, New York, NY
George Terasaki Collection, New York, NY, acquired from the above in 1980
PUBLISHED
Steven C. Brown, Transfigurations: North Pacific Coast Art. George Terasaki, Collector, Seattle, 2006, n.p., pl. 44
Atlatl is a word that comes from the Nahuatl or Aztec language. An ingenious and functionally beautiful piece of hunting technology, the atlatl is essentially an extension of the hunter's arm. Sometimes referred to as a spear thrower, an atlatl is about as long as a person's forearm and can be fashioned to fit exactly the grip of one's hand. Devised to increase the speed and flight distance of the arrowlike hunting darts that targeted seals and sea otters, the throwing board allowed a hunter to pick up, mount, and let fly the dart arrow all with one hand. This was an important consideration when hunting from a single-seat kayak or bidarka, for it left the other arm free to hold a paddle to steady the boat against wind or tidal currents.
This atlatl is artfully formed and subtly decorated, and shows great age in its coloring and wear. Its form is very subtle and ambiguous, suggesting the snout and head of an otter-like animal, drawing upon the character and power of a respected predator. Composed of harmonizing ridges and grooves, the intriguing form is not literally descriptive, yet it is all the more interesting because of its nebulous appearance.
This example is comparable to a Koniag or Alutiiq (Kodiak Island) spear thrower now in the collection of the Museum of Anthropology and Ethnography, Saint Petersburg. Shaped the same way at the grip, this Koniag atlatl features related groove and ridge decorations along its length. Its surface is inlaid with a number of sea otter teeth, tokens from the prime quarry of these highly adapted hunting weapons.
Steven C. Brown