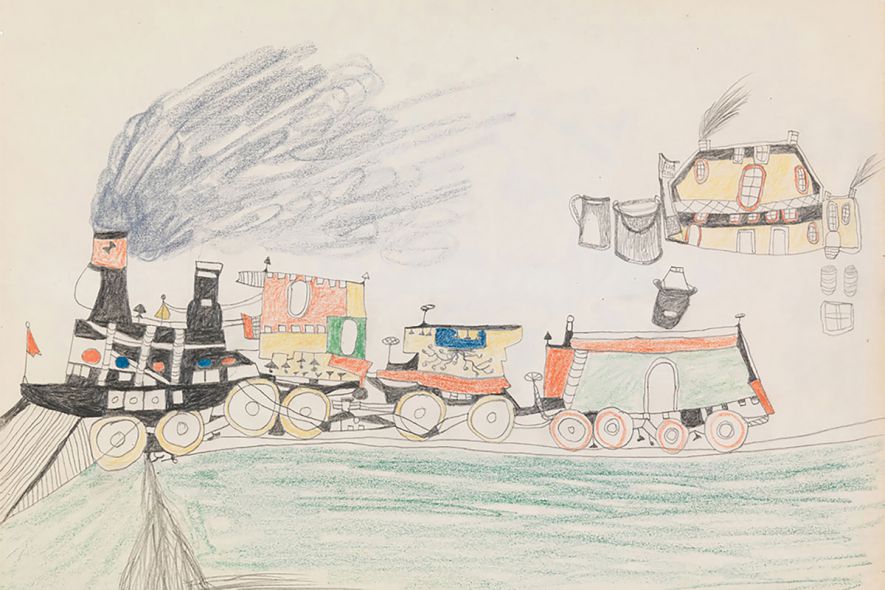 Ledger Drawings: Fort Marion and Beyond
November 15 – December 6, 2020
The first online exhibition hosted on the Outsider Art Fair Viewing Room
Click here to enter the exhibition
Donald Ellis Gallery is pleased to present Ledger Drawings: Fort Marion and Beyond, the first online exhibition hosted on the Outsider Art Fair Viewing Room. The exhibition will be live November 16 - December 7, 2020. 
As a dealer of historical Native American art for the past forty plus years, Donald Ellis Gallery has had ample opportunity to reflect upon the place of Ledger Art in the larger art historical context. The gallery views these drawings as profoundly seminal works of American art, while also acknowledging the conditions in which they were created and the collecting histories that surround them.
While the term 'Outsider' is used to describe art that is produced independently of prevailing fine arts conventions, the drawings in this exhibition are a continuation of long established Indigenous pictographic traditions that have their origins in prehistoric petroglyphs and historical hide painting. To Native peoples image making was a means of recording events by way of a sophisticated visual language complete with customs and standards.
In the late 19th century, specifically the years 1875 to 1878, a group of Native American warriors from a number of Central Plains nations were sentenced to prison at Fort Marion in St Augustine, Florida. During their incarceration, a small group of young Cheyenne and Kiowa men with nascent martial reputations took up drawing on paper supplied to them by their military captors. For most, drawing on paper was a totally new endeavour, as the tradition of recording history had in previous times been reserved to painting on hide. For these young warrior artists, Ledger Art was a novel means of documenting their lives which had begun on the open Plains.

With these drawings, warriors such as Koba, Wohaw and Nah Hi Yurs established their feats of courage, showcased their artistic skills, and made a small income from sales to the military men and local tourist community with whom they interacted on a daily basis. In this way, a large number of the ledger drawings and books created at Fort Marion arrived in collections in New England and beyond. Part of a dominant colonial system that has kept these exceptional drawings on the sidelines of the broader art world, this exhibition seeks to reposition Plains Indian Ledger Drawings as profoundly significant works of American art. 
In response to the current global health crisis Donald Ellis Gallery will donate 10% of all sales to relief efforts. Clients will have their choice in supporting one of the following charitable organizations:
The Center for American Indian Health    
Navajo & Hopi Families Covid-19 Relief Fund
City Meals on Wheels
To view the exhibition click here
For more available Ledger drawings from the Fort Marion period click here
Virtual Walk-through and Panel Discussion from Monday, November 30th
Highlights of the Exhibition